Winter vacation has come and gone, and third-graders still send forth hilarity. Just about every day.
Lately, however, I've noticed a theme to their hilarious comments: gender. I don't really know what to make of this, except that I am fascinated to watch how gender socialization starts to manifest at such a young age. I find myself thinking: What is contributing to their concepts of gender? Do I, the non-influential teaching assistant, get any input? How can I prevent them from thinking that boys are Y and girls are X? But if boys are at least partly Y and girls are at least partly X, is it worth trying persuade them otherwise?
Here are a few examples of what I have heard recently:
* * *
We have been learning how to describe eyes and hair in Hebrew: blue eyes, brown eyes, glasses, blonde hair, red hair, short hair, long hair, curly hair, straight hair, there's-no-Hebrew-word-for-wavy hair, etc. A wiry little boy (let's call him T) who is either giggling and giddy with energy or mortally angry because someone took his [
insert coveted object here]
today, decides to offer his input about hair. E, a very bright but socially awkward boy sits next to T. Depending on the day, T and E are either best friends or arch-nemeses. After we learn that "long hair" is שערות ארוכות (se'arot arukot), T says,
"My sister wants long hair. That's every girl's dream."
E has a different opinion:
"My sister's dream is to overrule her mom,"
he says
.
So here we have two eight-year-old boys waxing scholarly on the hopes and dreams of girls. I'd say they've got it about right. Except that they obviously don't know about angled, asymmetrical pixie cuts.
Um, that's a boy. Click if you don't believe me.

* * *
Here's another:
An incredibly sweet and kind boy -- you met him
a few posts ago
-- loves spicy salsa and thinks he becomes "a man" if he eats it without drinking water. He remembered that I laughed heartily at this joke (which I probably shouldn't have if I wanted to discourage him from thinking in gender stereotypes, but it was just SO CUTE) and has since continued with his "be a man" regimen -- mostly to make me laugh. When the class made Hanukkah cookies, he asked me to peel his dreidel-shaped dough off of the table and put it on the cookie sheet.
"I'm a man," he pronounced, "and I can't do delicate things! That's why YOU need to do it for me." I pointed out that he was already deep into the baking process, which might be construed as 'delicate' if he wasn't careful.
A few weeks later, the same child comes in from recess yelling,
"Morah Naomi! I'm the manliest of the manliest and the craziest of the craziest!" I have yet to figure out exactly what that means, but I think I get the gist.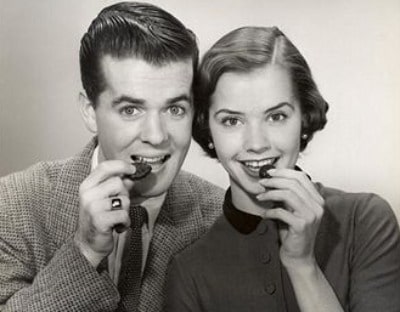 She made the cookies, of course.
As you can see, the concept of "manliness" is already evident in eight-year-olds, even if they don't have a complete grasp on what it can mean. When I ask the boys what they want to be when they grow up, they say things like: engineer, scientist, IDF soldier, police officer. During lunch, one of the boys sometimes pushes around a trash can and says in a deep voice: "Hey, I'm a janitor!" At this point, it seems that the boys are just modelling what they see in their own lives. It doesn't occur to them yet that men can be bakers, artists and teachers -- even though some of them love art class and others greatly enjoy explaining things to others. Hm. They will learn.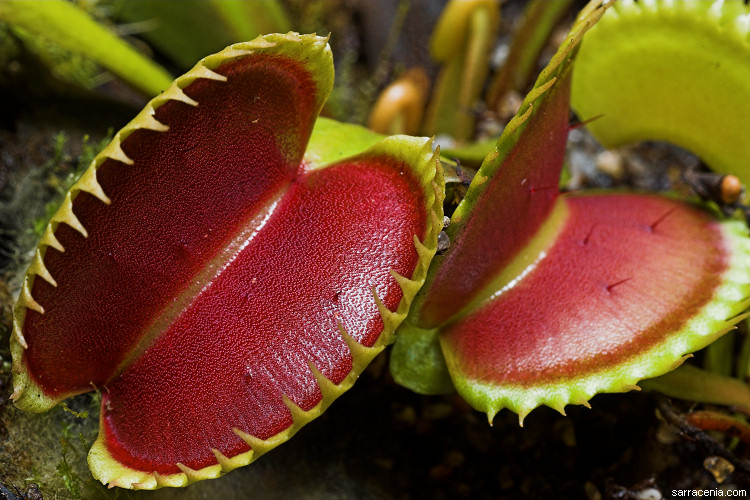 Venus Flytrap! The sides close and the fly gets trapped.
But my favorite gender comment by far came from a girl. She has quite the sense of humor and consistently badgers me to buy her a dog. She got a Venus flytrap for Hanukkah and, in addition to her obsession with carnivorous things, has a great sense of style. On one lovely occasion when I had lunch duty, she got up from her boy-heavy table (totally breaking a rule -- the kids are supposed to raise their hand if they need something) and made a request of me:
"Morah Naomi, can you make the boys be less boy?"
I knew exactly what she meant. Unfortunately, I had to say,
"No, I can't."
If only! But now I know what every girl's dream is: not to grow long locks, nor to overrule a parental figure; rather, to make third grade boys act less like third grade boys. To make them stop burping, teasing, and launching food particles off of their spoons. To make them move off the soccer field so the girls can practice cartwheels and back-bends. To make them stop tackling each other at every possible moment.
Because one thing I have noticed is that, at the third grade level, boys are distinctly "boy" and girls are distinctly "girl" and there is very little overlap. They do not play together, and a girl will even submit a request "to sit with more girls" at her classroom desk cluster. The girls bring in dolls and stuffed animals to play with at recess, and the boys bring in toy cars, Gameboys, and spy watches. And so I come back to the questions: Where did they learn that? Did their parents teach them? Did their siblings teach them? Did society teach them? When? They're only eight!
Well, eight years is plenty of time -- plenty of time for norms to take hold. And dare I say that these norms will always exist? I dare. And when they come to an end, every girl's dream will be... a Venus flytrap.