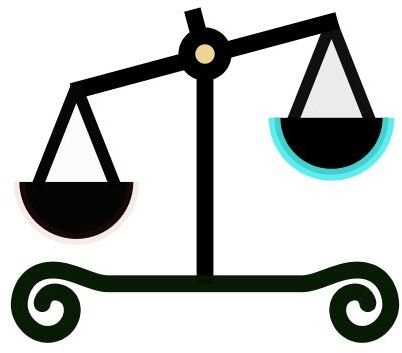 Every year, Maimonides School picks a
middah (
character trait) to emphasize. This year, the trait is
kavod
, which means respect or honor. Interestingly enough, the root of
kavod
(כ.ב.ד.) also means "heavy," the opposite of which is "light" or "easy" (
kal
in Hebrew). Therefore, if you are honoring someone, you treat him or her with gravitas; this person's presence has weight. If you choose to dishonor someone, you treat him lightly, just as Sarah was "made light" in the eyes of Hagar.
The words "heavy" and "light" have been drifting around my headspace recently in numerous ways. Specifically, I have been thinking about the phenomena of framing, storytelling, and perspective: how one event can seem so serious one day and so inconsequential the next (or vice versa). To illustrate my point, I have decided to do a writing exercise in which I describe situations from a "light" point of view and a "heavy" point of view. Here's the first scene:
That's not him, but you get the idea.
Take One (light): Our favorite question to ask is, "What is Alan* doing?" The kid is a chronic pencil-breaker and fidget-er. He is always twirling something in his hands, tipping backwards in his chair, singing to himself, screeching during davening, or making facial contortions up at the ceiling. He's tall for his age, and often wears an orange sweatshirt. In fact, he wears the sweatshirt so often that the cuffs are becoming permanently gray. The kids like him, but they often move away from him with the declaration, "Alan farted!" He does his homework -- sometimes (he's actually pretty smart). One night, he called the teacher to tell her he hadn't brought the right book home and couldn't do the assignment, so could he do it tomorrow in school? Oy vey, what a hapless child. One day, he threw a gummy ball at the ceiling and it didn't come down. The next morning, all the other kids were asking me if they could throw things at the ceiling to try to get the gummy ball down. I said no. Later, as Alan tipped back his desk chair with scissors, a rubber band, and heaps of mechanical pencil lead in hand, I asked the famous question in my head: "What is Alan doing?" The answer came to me immediately: probably farting.
Take Two (heavy): Alan is hungry. It's time for morning snack, and he's forgotten to bring one -- again. While the kids are out at recess, the teacher tells me, "I'm going to get Alan an apple from the teachers' room. He's so hungry. He needs to eat." Alan is one of six children; five girls and a boy. He wears the same raggedy clothes to school every day, including a sweatshirt that just gets dirtier and dirtier. He can't focus on anything for more than three minutes, and he is trained to entertain himself -- hence the weird preoccupation with objects that are definitely not toys. Sometimes, we scold Alan for talking or wandering or fidgeting or doodling or distracting other kids; we forget that these are only symptoms of a neglected child, and that such a child needs nurturing as well as discipline. On Wednesdays, Alan gets hot lunch. The teacher has bought it for him. "Pick a day," she said. "I'll buy it for you every week." A secret indulgence for a child who receives few gifts and not enough good food. A child who hungers for hot dogs and chicken nuggets, but also for attention and love.
*name has been changed
* * *
Here's the second scene:
Take One (light): Last week, I had a break-down. Us girls, we're always having break-downs, and they're for all sorts of reasons. Our nail polish came off. The electric bill is too high. We put on three pounds. How are we supposed to deal with co-workers who are so annoying? But the main reason we have breakdowns: Men. Guys. Boys. Males. Whatever you want to call them. They suck. They're
stupid; they don't realize we're pining after them; they're 26 and don't want a serious relationship; they're irresponsible; they wander around waiting for the perfect job, the perfect girl, the perfect life. They want you to cook for them. In this modern era of liberalism, they've even given up their historic role of "provider" and taken on the role of teenager, constantly hinting that they have no money, they're hungry, and they just want to be taken care of (oh, and of course they want sex, too). So, what, now women are supposed to take care of their men emotionally, physically AND financially? That's a lot of work. Where are all the men who buy us flowers and take us out to dinner without commenting that they are spending their entire meager paycheck on us? Where are the men who are sensitive, caring, AND mature enough to take care of themselves? Seriously, it's a crisis. It's enough to make a girl have a breakdown at least once a month. Probably more. As Flannery O'Connor once said, "A Good Man is Hard to Find."
Take Two: I haven't cried that much since the night I broke up with him. Full, heaving sobs; warm, coursing tears; the infinite desire to not talk -- just to cry and cry against someone's loving shoulder. It has been a full eight months, and it is still with me.
He
is still with me. Heavily and guiltily. Still living on in every potential relationship and every empty moment. And every night that I fall asleep alone.
I had been dating someone for less than a week, and the warning signs were already blaring out at me; the flashes of
him
were fast but obvious. So I crumpled inside and put up a wall and accepted the small guilt sooner rather than wait for the bigger guilt later on. But it still made me cry and cry and wonder how one ever leaves something (or someone) behind. Because what is life if not shared? What is life if not full of love? What is life when it is dotted with holes and emptiness and a fishing rod that tugs you back again and again? Sometimes, the "what-ifs" are almost too strong to bear -- especially when those "what-ifs" meant the comfort of someone loving you.
* * *
So, you see? Lighthearted or heart-breaking -- it's only a matter of how you spin it.
Some events, however (and you knew this was coming) can really only be felt and described with heaviness. Take, for example, the terrorist attack in Israel this past week. Whenever I speak about it, read about it, or hear it spoken about, a chilling heaviness weighs down my arms and hands, and my heart -- well, my heart is always in the east.
The day of the attack, my mom and I exchanged text messages about how we had talked to both of my newly-Israeli brothers that day. Nothing like sheer terror to make you pick up the phone.
Imma: I hate how I feel when something terrible happens in Israel. So heavy and sad and scared for the boys. It is a new normal for me and I have to get used to it.
Naomi: Me too. I literally just wrote down the word "heavy" as a way to describe how this feels.
When all we can do is mourn for the lost, we must try to lift the weight off of our shoulders. And the first step to hefting the weight is feeling, intensely, its heaviness.
But then there are the moments we all live for. The ones where the only the response is laughter. Remember "Alan"? Well, despite whatever might be going on at home or deep inside of him, sometimes the kid is just hilarious:
Alan: Look Morah Naomi, I have two quarters!
Naomi: That's nice.
Alan (wedging one quarter into each ear) Look Morah Naomi! I'm listening to fifty cent!
* * *